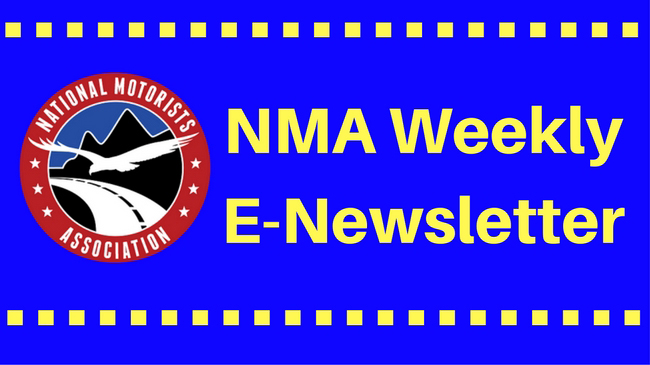 Statewide ballot initiatives and local votes on infrastructure and transit have now been finalized from the November 3, 2020 election. Check out the final results below from the motorists' rights statewide initiatives we outlined in the NMA weekly E-Newsletter #612. Important local election results follow the state ballot initiatives reporting.
Statewide Ballot Initiatives
Arkansas
Arkansas Transportation Sales Tax Continuation Amendment (2020)
Passed by a 55 percent majority.
The state will create a permanent 0.5 percent sales tax that pays for infrastructure funding.
California
California Proposition 22, App-Based Drivers as Contractors and Labor Policies Initiative (2020)
Passed by a 58 percent majority.
Rideshare and food delivery companies spent $205 million to win this vote. Gig drivers are still gig drivers with few benefits. Here are a few articles on this important vote with national implications:
California Proposition 24, Consumer Personal Information Law and Agency Initiative (2020)
Passed by a 56 percent majority.
California will now expand the state's consumer data privacy laws and will create the Privacy Protection Agency to enforce the state's data privacy laws.
Georgia
The Georgia Dedicating Tax and Fee Revenue Amendment (2020)
Passed by an 82 percent majority.
State officials will now change the state constitution to ensure that the legislature spends funds from fees or taxes on designated projects, rather than divert them.
Maryland
Maryland Question 1, Legislative Authority over State Budget Amendment (2020)
Passed by a 76 percent majority.
State officials may now change the state constitution to allow the Maryland General Assembly to increase, decrease, or add items to the state budget as long as those items do not exceed the total proposed budget submitted by the governor.
Massachusetts
Massachusetts Question 1, "Right to Repair Law" Vehicle Data Access Requirement Initiative (2020)
Passed by a 75 percent majority.
Question 1 received a great deal of national press because of its potential to establish a precedent for other states on crucial car ownership issues. Automakers spent $43 million to defeat the measure.
Michigan
Michigan Search Warrant for Electronic Data Amendment (2020)
Passed by an 89 percent majority.
This constitutional amendment will now require a police search warrant to access a suspect's electronic data and electronic communications. Other states will hopefully be encouraged to build their own initiatives on personal data protection standards.
Virginia
Virginia Motor Vehicle Property Tax Exemption for Disabled Veterans Amendment (2020)
Passed by an 86 percent majority.
Permanently disabled vets will now have an exemption from state and local property taxes on one car or truck.
Important Local Ballot Initiatives
Alabama
Baldwin County voters said no (for the second time) to a toll on the Baldwin Beach Express to I-65. Millions have already been spent on the project, which now has no more funding sources.
California
Bay Area Caltrain Measure RR passed, which will create a new 1/8 cent sales tax to help fund Caltrain service. The funding will help keep the train running and keep the train electrification project on schedule.
Colorado
Initiative 2A passed and Denverites will soon be paying 0.25 percent more in sales tax (for a total of 8.81 percent) to move the city closer to decreasing greenhouse gas emissions 100 percent by 2040.
Georgia
Gwinnett County voters for a second time rejected a transit plan that would have levied a one percent sales tax to fund a $12 billion transit expansion that included an extension of MARTA's (Atlanta area) Gold Line into the county and a new rapid bus system.
Maine
Portland passed Referendum Question B: Act to Ban Facial Surveillance by Public Officials. Residents can now sue for illegal surveillance under the ban. City employees can also face suspension or termination if caught violating the new ordinance.
Montana
Property taxes will be going up slightly in Missoula. Voters passed by a 59 percent majority the Urban Transportation District's mill levy request. The $3 million raised annually will add increased service on weekends, frequency on popular routes and increase chances for all-electric bus fleet by 2035.
Oregon
Portland Metro Measure 26-218 did not pass by a wide margin (57 to 43 percent). The Let's Get Portland Moving initiative wanted to expand transit, biking and walking by placing a payroll tax on large employers in the area.
Texas
Austin voters approved two transit-related measures: One to raise taxes to fund several new light rail lines and other transportation infrastructure, and another to improve pedestrian and biking infrastructure with a city loan of $460 million. Similar measures failed in 2000 and 2014.
San Antonio voters approved by 68 percent to allocate a portion of local sales taxes to fund improvements to the city's VIA bus network.
Washington State
Eighty-two percent of Seattle voters approved a new sales tax to preserve frequent bus service, shuttle vans, and free student fares. The six-year measure of a 0.15 percent sales tax will generate $42 million a year.